Internationally Recognised by Exemplar Global
Learn how to conduct Internal Audits of ISO Management Systems
Save time learning how to conduct Internal Audits of ISO Management Systems in a practical way, providing the theory along with templates, exercises and real-life examples.
Internationally Recognised by Exemplar Global, this course is delivered in a series of short videos, providing you with the knowledge, qualification, and the verification of competency you need to become an ISO Management Systems Internal Auditor.
Check out the video below to find out more about the course and the training platform.
Price: AUD 990
Get Qualified to
Conduct Internal Audits in accordance with the requirements of the following
ISO Standards:
Are you ready to become a Management System Internal Auditor?
Course Reviews
Simple and easy-to-digest
The content was very good and all tied together very well. Brought me back up to speed on what I experienced during the internal audit provided by our external consultants last year. Simple flow with easy-to-digest information.
Alistair Bridle
Easy Management Internal Auditing Course
I found it was very clever having visual and auditory learning. I was able to do the course in a few hours, and I now feel confident to conduct my management systems internal audits.
Tracey Webster
Great short course and fully future focused!!
If you are new to auditing, or like me have not been able, or had the opportunity, to follow up on continuing some of your previous auditing skill sets, this is a great (re)introduction. I recommend doing this short course!
John Holt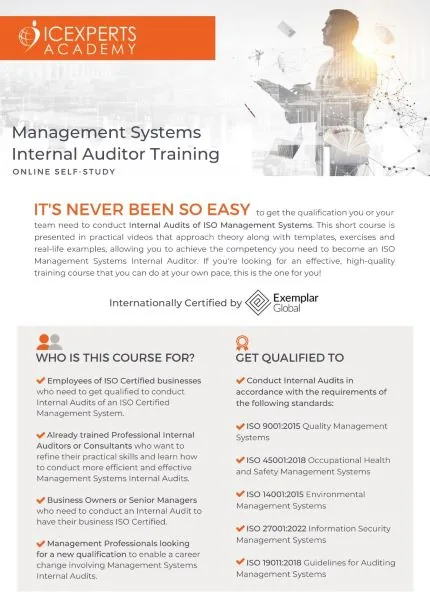 Get your FREE Course Guide today!
Need to qualify your team?
Check out our discounts for businesses when buying courses in bulk
Certificates
This course includes three levels of qualification you can achieve
Certificate of Completion
Upon successful completion of the course, you will be provided with an Internationally Certified Certificate of Completion for this course, displaying the ICExperts Academy and Exemplar Global recognition logos.
Certificate of Competency
This is optional.
If you'd like to be verified as competent, you'll need to conduct an Internal Audit of a Management System, and book a time with our Course Facilitator for review and verification of your competency as a Management Systems Internal Auditor.
Professional Certification
This is also optional.
If you'd like to be recognised as a Certified Professional with Exemplar Global, you can apply for this certificate upon course completion, which is valid for 12 months. Additional fees apply.
Educational Approach
This precise training course is based on both theory and best practices used in Internal Audits of Management Systems. Below is some important information about our Educational Approach and Training Delivery:
System Requirements and Supported Browsers
The course is provided via a browser based platform. To make sure everything runs well, please make sure your desktop/device has the following:
Questions? Contact Us!
If you'd like to discuss any further details or have any questions, please contact us.